Award: Shop Fronts
Wrekin Whiskies: Wyle Cop.
The logo uses italics to bring to life the name Wrekin Whiskies while the rich green painted exterior with shutters to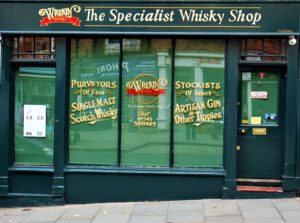 match hints at the Shropshire
countryside including the Wrekin.
This shop brings a new meaning to the toast "To All friends around the Wrekin".
 Receiving the award for Wrekin whiskies shopfront:  Owner Mike Hale.
Adorn Custom Tattoos, Mardol.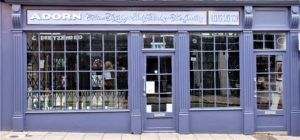 A classically designed exterior with an inviting outside appearance painted blue. The signage is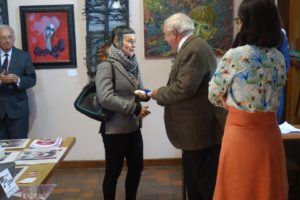 clear and attractive with a logo that explains the variety of services provided.
Receiving the award for Adorn shopfront: Owner Anna Garvey
Award: Refurbishments
Harvey's: Fish Street.
A stylish reinvention of a
former furniture shop, with an intriguing arrangement of space overlooking one of Shrewsbury's oldest medieval streets.
Ten & Six: Mardol.
It is difficult to imagine a building in Shrewsbury better suited to house an Alice in Wonderland-themed champagne bar, or a Mad Hatt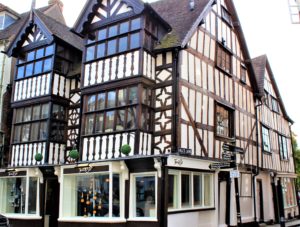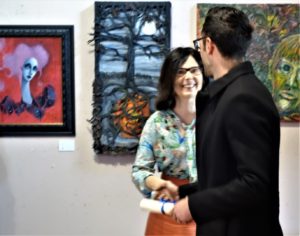 er's tea party for that matter. This is a high quality renovation with elegant paintwork bringing out the architectural qualities of this eye catching 17th century timber-framed building.
Receiving the award for Ten & Six refurbishment: Owner George Marneros 
Special Award: 50 Year Award – New Build
Lloyds' Bank, Pride Hill.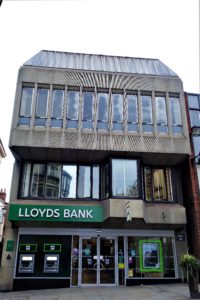 Fifty years since first receiving an architectural award fro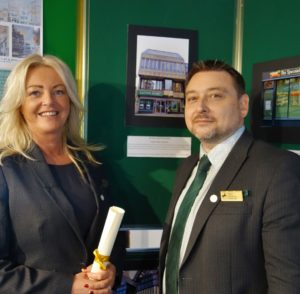 m the Civic Trust, Lloyds Bank on Pride Hill, arguably Shrewsbury's brutalist masterpiece, has again been chosen from a small but distinguished number of modernist buildings for its contribution to the town's historic street scene.
Receiving the award for Lloyds Bank: Rosalind Ince and Jason Pickering
Special Award: 50 Year Award – Refurbishment
Henry Tudor House, Barracks Passage.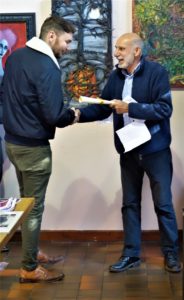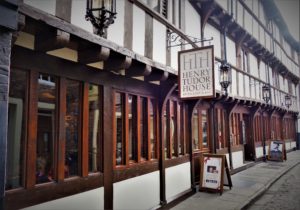 After numerous changes and alterations Henry Tudor House, has been transformed into one of Shrewsbury's most attractive restaurants and cultural venues, where the highest standard of restoration has been combined with a modern contemporary feel.
Receiving award – Owner Graham Jenkin's son Sam
Award: New Build
Howard House, Havelock Road.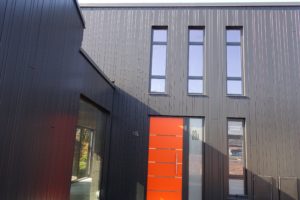 This self- build house was built to exacting quality and design standards, and also has met the energy and water efficiency aspects. It has been sympathetically designed in relation to its setting. The Howard House does all this and more. This modern designed home will be discretely hidden behind a brick wall which continues along the road joining one that exists today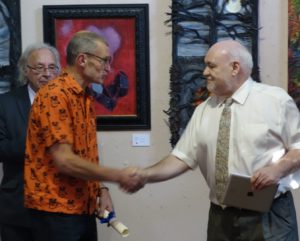 , ensuring that the streetscape is appropriate to this location. From the garden the house is very impressive; an open plan kitchen has a wall of glass-sliding doors with a full view of the garden. When complete this will certainly be an innovative design built with a lot of hard work and an eye to detail.
Receiving best new build award for
Howard House 20A Havelock Road:  Martin Howard