(sponsored by Shrewsbury Civic Society)
The Town Trail booklet gives a potted history of the town from its early days as a Welsh tribal capital through to the foundation of the Abbey in 1083 and then on to the Battle of Shrewsbury in 1403.
1645 brought the civil war to Shrewsbury with the Cavaliers and Prince Rupert in town and the Parliamentarians outside – eventually breaking in.
Later we have industrialisation taking place with William Hazledine's foundry producing iron for bridges, including the Menai Bridge.
In 1809, Charles Darwin was born at The Mount in Shrewsbury and lived here for the first 26 years of his life. He was educated at Shrewsbury School which is now the library.
We have an award winning Market and even an example of Brutalist Architecture in what English Heritage has called "The finest Tudor town in England"
With so much history to cover, the Town Trail takes you on a historic walk of Shrewsbury. Each page gives details of the town's wonderful buildings in a numbered guide amounting to 35 Pages of detailed history for £3.50.
It can be purchased in our shop at the Bear Steps Hall
(Scroll down for a map of the Town Trail)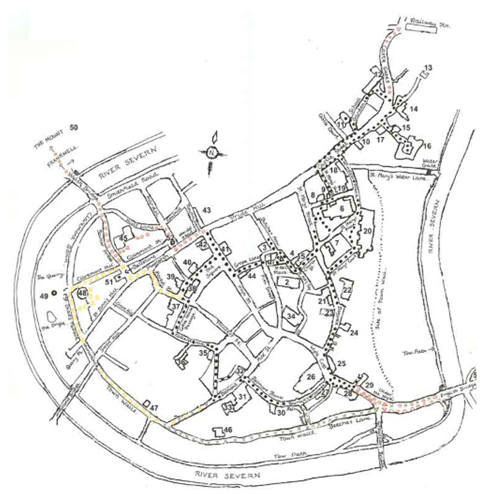 15 = Council House Gatehouse
25 = Ward's Classical Facades
33 = Former Judge's Lodgings
35 = Old County Savings Bank
44 = Former Cross Keys Inn
47 = 13th Century Watchtower
51 = Glacial Erratic Boulder